RAW Music – Rwandan Association of Women in Music
A three days conference kicked off the project Creating self-sustained music careers for women in Rwanda. Rwandan and Swedish women musicians exchanged, discussed and learned from each other. The pilot project will be screened in April – Mix Musik will keep you posted!
Text: Karolina Jeppson
It all started out when Teta Diana, a Rwandan singer based in both Malmö and Kigali, approached Mix Musik with an idea. As a woman artist, Teta Diana has experienced the male dominated music industry in both Rwanda and Sweden. Women are certainly highly involved in the music industry in both countries, but less frequent in the role as instrumentalists and even less frequent in the role as producers, especially in Rwanda. When it comes to traditional folk music in Rwanda, there are instruments that women have been forbidden to play. This has been the case in Sweden as well.
Teta Diana represents an artist organisation in Kigali called Sakwe Studios. The discussions between the two organisations evolved into a pilot project, funded by the programme Creative Force within the Swedish Institute. The pilot project will hopefully continue on a larger scale, that aims to strengthen capacities and to create a physical space for Rwandan women's development in music production.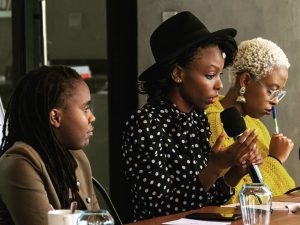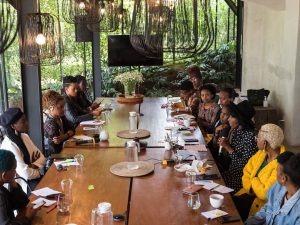 A conference took place the 21-23rd of February as a joint online and physical three days event. In Kigali, around 20 women had gathered in a conference space and the Swedish participants were participating online. Three days were dedicated to presentations, discussions, exchange and for sharing experiences.
"We meet a lot of challenges in the music production as women. I thought – let's create a safe space where everything is ok to talk about – and that's why we are here", says Teta Diana.
The Rwandan participants represented a diversity of musical expertise: Traditional singers and instrumentalists, hiphop-artists, DJ:s, RnB-artists, reggaeton-artists, gospel-singers etc. The Swedish online guests were musicians and artists, with careers within traditional folk music, fusion and electronic music. The musician and researcher Camilla Jonasson, gave a presentation about her experience as a musician in one of Sweden's first all-female bands. She described how she has always been seen as a woman before being seen as a musician. Sweden-based Yasmine El Barawamy talked about how to overcome challenges that women artists face in the male dominated music industry, which opened up for important sharing and discussions.
"I am so tired. Of having to be so strong all the time, being in the studio recording with thousands of men, having so many opinions of something I'm writing about. Standing on the stage I have to be strong. Everywhere I have to be strong", says Andersonne, a singer, actress and DJ, and one of the participants in Kigali.
The second day started off with folk musicians and composers Brita Björs, multi-artist and known as Folkmusikens Queen B, and Anna Möller, violinist and producer. How to navigate in music freelancing as well as music distribution were the topics: How do we present our artistry? Artistic concepts? What channels are used for distributing music in both countries?
The discussions were followed by an afternoon dedicated to gender equality. Hon. Carina Nilsson, the mayor of Malmö and the first woman being the chairperson of the board of the municipality, talked about the development of gender equality in Sweden, historically up to present day. In Kigali, the conference was honoured by Marie Immaculée Ingabire, an experienced women rights activist in Rwanda, as chairperson of Transparency International Rwanda. Hon. Rosemary Mbabazi, minister of youth and culture in the Rwandan government and Clare Akamanzi, lawyer and executive director of Rwanda Development Board. The discussions in Kigali involved how to promote the music and culture of Rwanda, and how to face the challenges for women artists. Suggestions were discussed about arranging seminars for learning about business tools within the creative industry such as writing projects, branding and the importance of registration of one's business.
"Unity among women in general is still a challenge. I learned so much here, I learned to look at my artistry as a business – and we created a sisterhood", says Malaika Uwamahoro, participant musician in Kigali.
The last part of the conference concerned music production as a tool for empowerment for women musicians in Rwanda. The Swedish electronica artist and producer Loljud shared her experience in producing her own recordings as well as producing records for other artists. Composer and producer Sebastian Acosta Moreno runs his own studio and his workshop highlighted necessary tools to when starting to produce one's own recordings. For the concluding hours and reflections, the legendary traditional Rwandan singer Cécile Kayirebwa, took part in the discussions.
Many positive ideas and new perspectives came out of the three days exchange, which surely will continue to grow. One idea involves the aim to co-produce an album, by and with Swedish and Rwandan women artists. In April a film will be screened about the pilot project, in order to present the outcomes of the exchange to stake holders, musicians, and for the public. So watch out – Mix Musik will keep you posted!